Reach the Buyers in our next catalogue,
Released February, 2017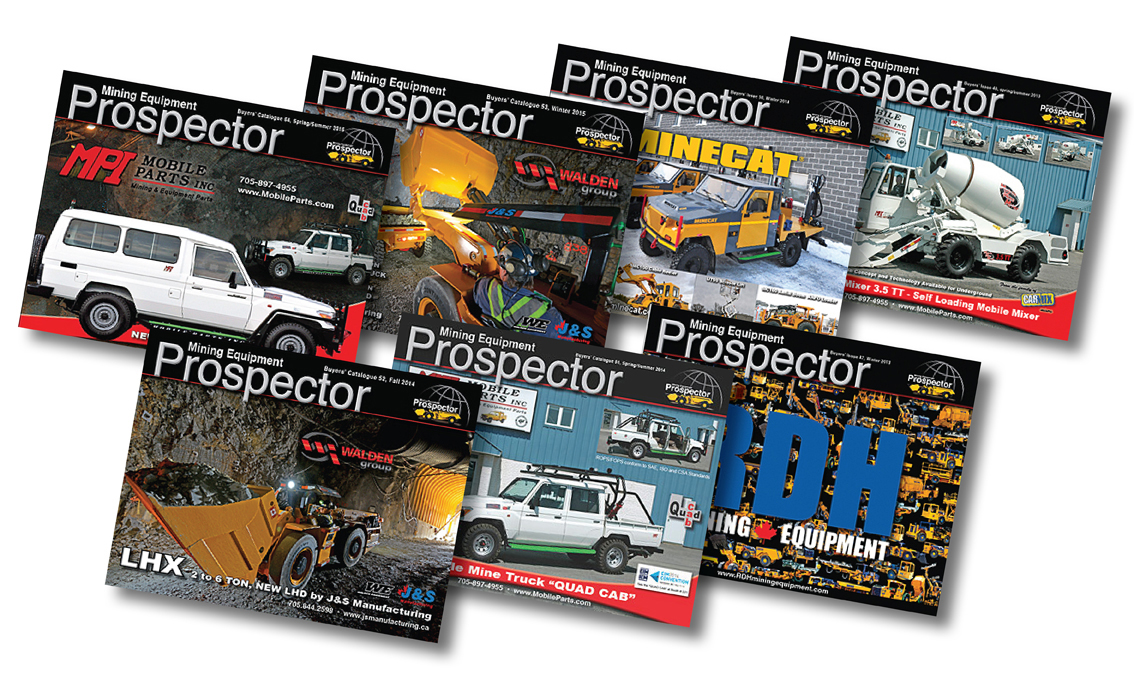 The Mining Equipment Prospector
A Mining Equipment Catalogue, Free to all Buyers
Featuring your:
• Mining Equipment FOR SALE, RENT - HIRE - TO LET
• Mining Equipment Parts
• Mining Services

Full color advertising for all budgets
Closing date for advertising in our next issue is January 15, 2017.

Bonus Distribution of next issue:

Distribution at PDAC Convention and Trade Show in Toronto
• 500 exhibitors promoting technology, products and services
• 540 exhibitors featuring Investors Exchange
• Over 25,000 people attending for the forth consecutive year
What makes us the place to advertise equipment

More Visibility
The Mining Equipment Prospector is a database that features on average over 2,400 pieces of Mining Equipment For Sale. This directory format catalogue is a great reference tool for Buyers. It's nature extends reader shelf life, resulting in more frequent visibility to our advertisers. We have seen buyers referring to publications two years after a specific ad was placed.

Sales Leads
We also send you Sales Leads from Buyers as we receive them.
- in 2011 we sent out 111 Leads for 273 machines or a major component
- in 2012 we sent out 92 Leads for 268 machines or a major component
- in 2013 we sent out 80 Leads for 143 machines or a major component

How many other publications send you direct sales leads?

Internet, Top 8
We are in the top 8 on most search engines... try it, search "Mining Equipment"

International Buyers
The Mining Equipment Prospector is distributed to a network of 2500 astute international mining contacts.
Can you?
Visit 2,500 potential Buyers in 4 months....

Results
We have numerous repeat advertisers, every issue for the last 18 years.. 51 issues to date!



Don't miss our next issue!

Give us a call today. We have an advertising package for any budget...
705-560-5519

Remember!
It will not sell, if nobody knows you have it!



The Mining Equipment Prospector
620 Ramsey Lake Road
Sudbury Ontario, Canada P3E 6H5
tel: 705 -560-5519
Fax: 705-673-8463

Return to home page